King of Saudi Arabia is Mac User
Abdullah bin Abdul Aziz Al Saud is King of Saudi Arabia. He has a net worth of $21 billion as of 2008. King Abdullah is a Mac user who uses Mac with Apple Cinema Display in the royal palace.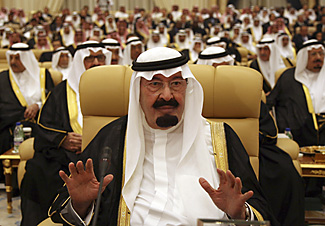 Being king of world's leading petroleum exporter does have some benefits. Not only is he a billionaire, King Abdullah also gets to use a Mac in his office at the royal palace.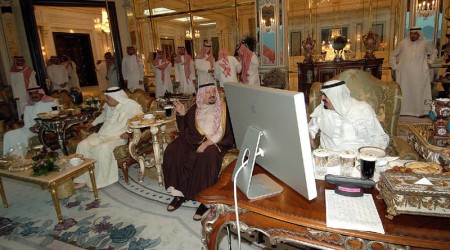 King Abdullah bin Abdul Aziz has meet many world leaders. In 1976, as Prince, Abdullah met with U.S. President Gerald Ford.
More recently in June 2009, the Saudi King hosted U.S. President Barack Obama in Riyadh, Saudi Arabia. Obama visited Saudi Arabia as part of the mission to develop key partnerships with middle east leaders.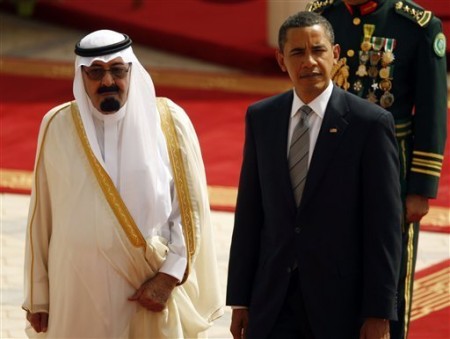 Red carpet ceremony welcoming U.S President Barack Obama.
Air Force One in the background at King Khalid International Airport, Saudi Arabia.
King Abdullah with U.S. President Bill Clinton.
Here is King Abdullah meeting with Pope Benedict at Vatican. This is the first official meeting between a pope, leader of the Catholic Church, and a Saudi monarch, Custodian of the Two Holy Mosques considered to be at the center of the Islamic world.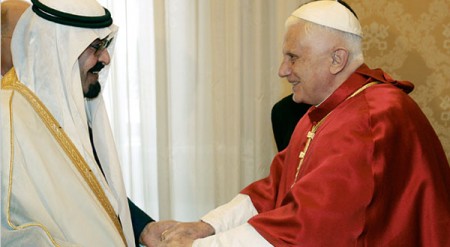 Saudi Arabia Reforms
King Abdallah of Saudi Arabia has implemented some reforms in the ultra-conservative Islamic state.
Recently, the mutawa'in, powerful religious police in Saudi Arabia had mounted a very unpopular campaign to prevent Saudis from any celebration of Valentine's day. This results with King Abdallah replacing the hard-line head of mutawa'in, with a more moderate cleric on Valentine's day, February 14, 2009. On that day the Saudi King also appointed a woman to be Prince Faysal's deputy minister for girls' education, the first woman to be appointed to such a level in Saudi government.
The Saudi King had also implemented shakeup of country's power structure as well. Perhaps it will result in some positive change in the kingdom.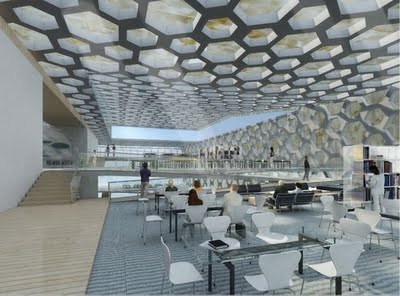 Mac: The platform fit for a king [tuaw]
Pope Benedict Meets Saudi King at Vatican [New York Times]
Saudi king orders long overdue reforms [Middle East Perspectives, Rick Francona]

Related Posts