Digg founder, entrepreneur Kevin Rose is a Mac user
Due to the lowered barrier to entry in running a technology based business, the young and creative are disrupting the old media and transforming the world via the process of creative destruction. Digg founder and Mac user Kevin Rose is a perfect example.
Kevin Rose, with his Apple MacBook laptop. Kevin also uses Apple MacBook Pro. Kevin is a switcher from PC. On Diggnation, he had talked about how much faster it is to get things done on OS X.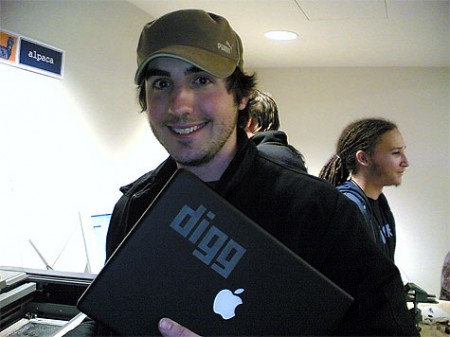 After risking all his time, all his cash, and even losing his girlfriend, San Francisco / Silicon Valley resident Kevin Rose made it big when version 3 of Digg launched on June 26, 2006.
Within 2 months, Digg.com became one of the top web sites in the U.S. ranking at 24th, with more than a million people visit Digg daily, ahead of billion-dollar old media corporations such as Fox news. Digg now has mllions of dollars in revenue.
Digg is a web 2.0 company that democratize news coverage, covering Technology, Politics, Entertainment, and more. Their technology allows user submission of news, plus social interaction to vote for which breaking news go to the front page.
Simply copying Digg won't work. AOL launched a rival service, even tried to recruit Digg's top 50 contributors to switch. But the old-media corporate giant's copy cat was unsuccessful.
Rock Star Status
Due to the lowered cost of technology, a large scale business no longer need venture capitalists to launch.
New technology elite like Kevin Rose and Facebook founder Mark Zuckerberg can pick and choose where investment dollars comes from, and how much control to retain over their creations.
Kevin Rose enjoys rock star status.
He was a runner-up in blog ValleyWag's "Hottest Guy in the Valley" contest.
At a party for the 50th show of weekly Diggnation video podcast, Rose was mobbed by fans and even photographed signing a brunette fan's cleavage.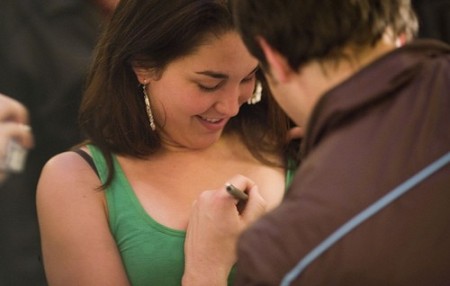 Make Technology Accessible to the People
In 2004, while Kevin Rose was a host of an obscure cable tv show called TechTV, he interviewed Apple computer cofounder Steve Wozniak.
From a garage, Steve Woz and Steve Jobs, had created Apple and the personal computer industry. This act of creation by Steve Jobs and Steve Woz made technology accessible to the people.
Kevin Rose was inspired by Steve Woz's achievements and place in history. That got him started working on digg.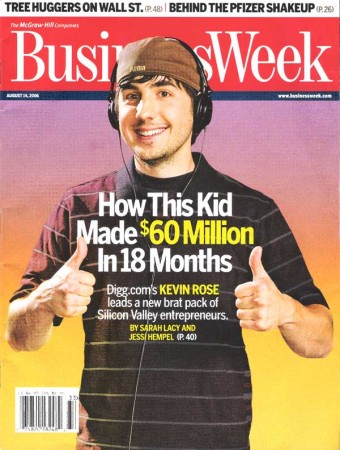 Digg now has millions of dollars in revenue. Who says creativity doesn't pay?
via
Valley Boys, Digg.com's Kevin Rose leads a new brat pack of young entrepreneurs [Business Week]

Related Posts