Microsoft Zune HD vs Apple iPod touch 3G, Feature Comparison

Microsoft released its latest Zune, the Zune HD on September 15, 2009. Just how does the Zune HD compare to the iPod touch 3G (late 2009 model)?
Start reading from first page of Zune HD vs iPod touch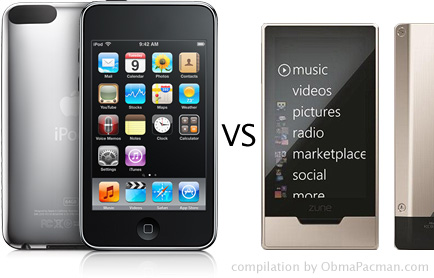 Hardware
On Microsoft Zune HD hardware versus the Apple iPod touch 3G. Which device has the faster Processor, more RAM, and newer technology?
| | | |
| --- | --- | --- |
| | Zune HD | iPod touch 3G |
| RAM type | DDR1 | DDR2 |
| RAM amount | 128MB | 256MB |
| Processor | ARMv6 (ARM11) | ARMv7 (Cortex-A8) |
| Process Class Introduced | 2007 | 2009 |
| Processor Speed (Clocked) | Unknown | 600 MHz? |
| Processor Speed (Potential) | 600 MHz | 833 MHz |
| Video Chip | Integrated | PowerVR SGX |
The Nvidia Tegra brand is not technology established by Nvidia. Instead, it was a company bought by Nvidia and re-branded under the Nvidia name. The basic architecture of Nvidia Tegra is fundamentally different than Nvidia's desktop or laptop offerings.
The Tegra technology is based on last generation ARM processor similar to technology used in the original 2007 iPod touch.
Zune HD runs the Tegra processor, an older processor, with not only older DDR1 RAM, but also less RAM. The Tegra processor has an integrated graphics chip, as opposed to iPod touch 3G's PowerVR SGX dedicated graphics chip.
To put things in perspective, the 2007 iPhone and 2007 iPod touch uses DDR1, 128MB of RAM, ARMv6 processor. Sounds familiar? It's quite surprising that Microsoft went with 2 year old technology there.
FYI, it takes about 10 seconds to open the calculator app on the Zune HD. Is that "desktop" speed? For comparison, it takes one (1) second to launch the calculator app on the iPod touch.

Related Posts