Microsoft Zune HD vs Apple iPod touch 3G, Feature Comparison

Microsoft released its latest Zune, the Zune HD on September 15, 2009. Just how does the Zune HD compare to the iPod touch 3G (late 2009 model)?
Start reading from first page of Zune HD vs iPod touch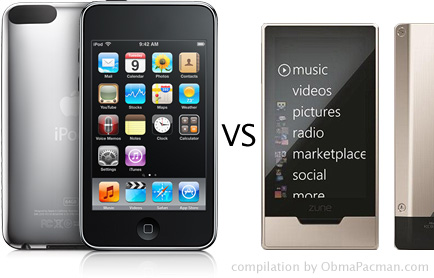 Video Output
But what about Zune HD's advertised HD feature? With the screen of Zune HD at only 272×480 which is not even DVD quality, there has to be some way to pay the HD content?
Yes there is. Just like iPod touch, Zune HD uses external dock / cables for media output.
| | | |
| --- | --- | --- |
| | Zune HD | iPod touch 3G |
| Video Out | Requires dock | Requires cable |
| Video Out Price | $89.99 | $49.00 |
| Max video output | 720p | 576p [3] |
| Accessory boxed weight | 30 ounces (1.9 pound) | 8 ounces [4] |
[3] Note that the iPod touch 3G hardware is capable of higher resolution playback than the current 576p. There are reports that someone has achieved 1080p playback with Apple iPhone 3Gs. More specifically, 1080p (1920×1080) video playback on iPhone 3Gs at 30 frames per second at up to a 35Mbps without any lag or stuttering. Since the iPod touch 3G uses the same class of processor as the iPhone 3Gs, then 720p, and possibly 1080p playback output should be possible on the iPod 3Gs. Might be a feature that Apple will unlock.
[4] Yes that is the box packaging weight, but the ratio of content per box would probably be consistent. In other words, no matter how you see it, the Zune HD video output will weight close to 4 times the weight of the Apple iPod touch video output adapter.
The whole weight / size argument for the Microsoft Zune HD just flew out of the window. If you want Zune HD for HD video playing, it requires bulky adapter and cables that weights close to 2 pounds.
Keep in mind there are netbooks that weights 2 pounds. In contrast to Zune HD's heavy video output adapter, the Apple video output adapter only weights a fraction of that.
Summary, Zune HD works with 720p with bulky and expensive optional equipment. So the Zune HD is targeting to be a portable media player or something that weights the same as a Netbook but without the processing power?
Note that Apple's adapter could potentially allow HD video better than 576p in the future, since the processor in the iPod touch 3G is capable of 720p and possibly 1080p playback.

Related Posts