Microsoft Zune HD vs Apple iPod touch 3G, Feature Comparison
Microsoft released its latest Zune, the Zune HD on September 15, 2009. Just how does the Zune HD compare to the iPod touch 3G (late 2009 model)?
Start reading from first page of Zune HD vs iPod touch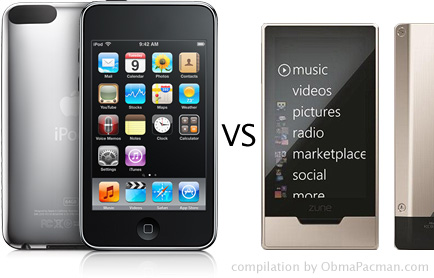 Media Player Control
So how would you use the portable media player? Here is how you would use the Zune HD vs Apple iPod touch 3G
| | | |
| --- | --- | --- |
| | Zune HD | iPod touch 3G |
| External volume buttons | No | Yes, on the side |
| Built in speaker | No | Yes |
| Headphone Remote control | No | Yes |
| Headphone Volume control | No | Yes |
| Microphone | No | Yes [1] |
| Voice Control | No | Yes [2] |
| On screen controller usability | Poor | Good |
[1] Microphone is included in the headphone. The microphone / headphone in the Apple iPod touch uses an industry standard 4 prong connector, which also works with hifi-headphones.
[2] The Voice Control plays albums, launches apps, find contacts, and more, but the accuracy might need some improvement as it depends on factors such as ambient noise and user accent.
Face it, Apple invests a lot into usability research, while Microsoft typically puts lipstick on a certain animal. The Zune HD is no different. Especially in term of media control usability.
Regarding to the media controls, such as change the volume, skip to the next song, or even stop playback, Arstechnica review has called attention of usability problems. Referring to the poorly implemented controls of the Microsoft Zune HD, the reviewer said "usability has taken a punch to the gut" and "the more I used this, the more I hated it."
In term of media control, it's no contest. No matter what you want to do, you need to perform quite a number of steps. With the Zune HD, doing something simple would require the user to pull it out of the pocket, press a button to call up an overlay, control the overlay, and put it back into the pocket. while Apple iPod touch offers 1 touch controls without all the intermediary steps.

Related Posts