Microsoft Zune HD vs Apple iPod touch 3G, Feature Comparison

After efforts reaching back to 2004, Microsoft's market share in the portable media player remains at a negligible 1%. The Zune HD is Microsoft's latest entrant. This time, Microsoft is touting Zune HD's hardware features. So how does the features actually stack up to Apple's iPod? More specifically, how does the Zune HD compare to the iPod touch 3G (late 2009 model)?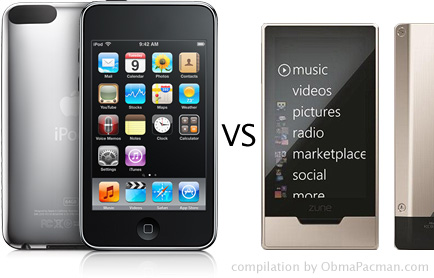 Let's get ready to rumble. Microsoft Zune HD vs Apple iPod touch late 2009 model. Yes it looks like a challenger, but do you have all the facts? Keep in mind that Zune HD is U.S. only due to various reasons, including the fact that its "HD" radio is a proprietary system that is U.S. only.
Note the Apple iPod touch late 2009 model is commonly known as the iPod touch 3G, as in third generation, or 3rd gen, not referring to the mobile telecommunications 3G that is used in the iPhone.
Microsoft Zune HD Background
The Zune HD is Microsoft's latest attempt at following Apple's footsteps.
After attempting to license its restrictive Microsoft DRM / platform / software tax unsuccessfully for few years, MS dropped its Microsoft "Play for Sure" DRM technology, support, and partners in 2006, then proceeded to try to imitate Apple's iPod business model in the portable music player market.
The Microsoft copying effort resulted in original Zune released in 2006, and other versions of Zunes since then. The Zune line is incompatible with Microsoft's previous "Play for Sure" DRM platform. Instead, another Microsoft DRM scheme was created for the Zune.
The Zune line, similar to the abandoned Microsoft "Play for Sure" platform, has been an utter market failure so far. Users reported lack of features and usability problems. After 3 years in the market, Microsoft Zune music players has only 1% market share, compared to Apple's 73.8% market share (market share data referenced at Apple's new iPod event last week).
Exterior
Comparing size, weight, and screen of Zune HD and Apple iPod touch 3G
| | | |
| --- | --- | --- |
| | Zune HD | iPod touch 3G |
| Height | 102.1 mm | 110 mm |
| Width | 52.7 mm | 61.8 mm |
| Depth | 8.9 mm | 8.5 mm |
| Screen Size | 3.2" | 3.5" |
| Screen Pixels | 272×480 | 320×480 |
| Weight | 2.6 ounces | 4.05 ounces |
| Display in dark room | OLED | LCD |
| Display in sunlight | OLED | LCD |
Zune HD's display is not HD resolution. In fact, it's smaller than the display in iPod touch, by both image size and pixel count. Apple's iPod touch has 15% more pixels and 25% larger screen area than the Zune HD.
Zune HD weights less due to having a smaller screen. However the Zune HD is marginally thicker than iPod touch.
So how's the most advertised feature, the OLED (Organic light-emitting diode) display?
Most reviews state that under subdued lightening, Zune HD OLED display looks great.

However, Zune HD's OLED display has poor usability outside under sun.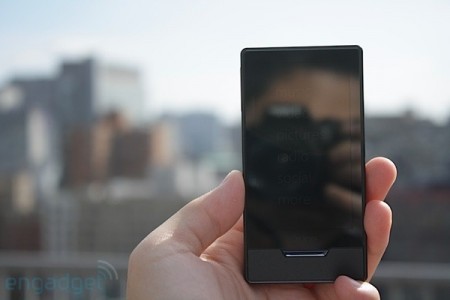 Zune HD display compared to Apple iPod touch display.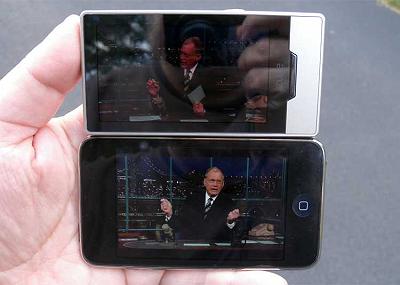 LOL. Some people think those are "fanboy" photos. Too bad they are blind to the obvious.
Photo credit (as already described in the mouse over image ALT text)
- First two photos: Engadget, as shown by the 22 pt unobscured engadget watermark (30 pt when enlarged).
- Third photo: Chicago Sun Times
There are also some concerns about the longevity of OLED too, as organic compounds in OLED are expected to have a shorter life expectancy than LCD.
So for image quality, OLED seems to have the upper hand when used in a dark place, but doesn't perform as well outdoors under the sun. But would it last? Hope it won't be a repeat of the Microsoft Xbox Red Ring of Death.
Continue reading using the navigation elements on top or on the bottom of the page…


Related Posts