Michael Phelps, Olympic Gold Swimmer, Uses Apple iPod in Water
Top athlete, current record holder of most Gold Medals at a single Olympics, Michael Phelps swims with his Apple iPod (and sometimes submerged Mac too), and listens to music under water.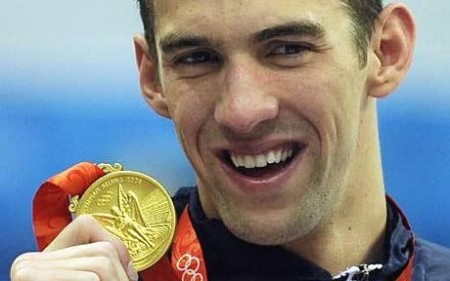 Olympics champion Michael Phelps is an iPod guy. In this photo he uses his Apple iPod classic by pool side.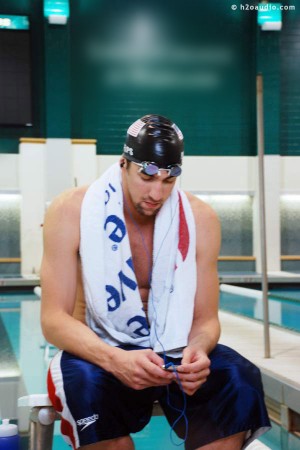 With up up to 5 hours of high-intensity swim workout a day, Michael Phelps spends a lot of time under water.
Michael Phelps also uses his iPod when he swims. You might think when Phelps jumps in the water with his iPod and headphones, there would be moisture or liquid damage. But fortunately his iPod is enclosed in waterproof case, and he is wearing water proof headphones. Both goodies are made by H20 Audio.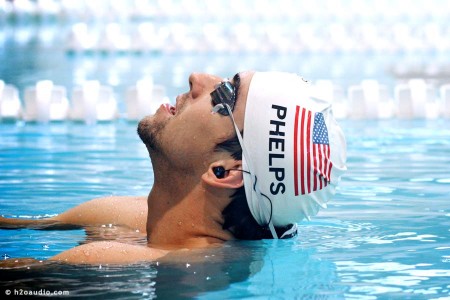 Phelps poses for the Feb. 3, 2005 Sports Illustrated magazine cover underwater with an Apple iMac at University of Michigan in Ann Arbor swimming pool.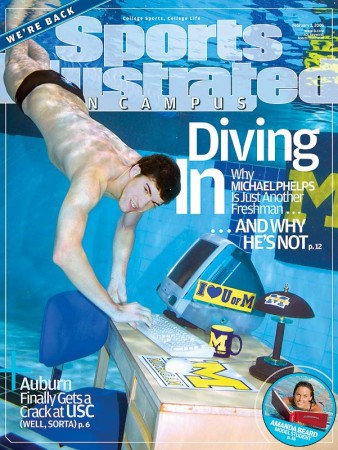 Phelps Photographed as a Mermaid / Merman
This is probably one of the coolest photo shoot for Michael Phelps.
Famous photographer Annie Leibovitz photographed actress Julianne Moore and swimmer Michael Phelps for Disneyland's "Year of a Million Dreams" ad campaign.
"Yes, Julianne has a big mermaid tail; it's interesting," Leibovitz recalled from the shoot. "Michael, too. His movements were so graceful and beautiful you just felt like you were watching a real merman."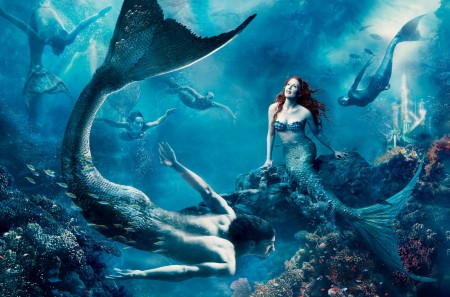 Phelps Background
Michael Phelps is an incredible athlete. So far he has Olympic wins of 14 Gold and 2 Bronze medals.
Phelps holds the record for the most gold medals at a single Olympics, from his unprecedented 8 gold medal win at Beijing 2008 Olympics. Michael Phelps has broke numerous world records in swimming.
Phelps broke 32 world records as of 2008
Phelps broke 37 world records as of August 2, 2009
Wow, at least he doesn't break his iPod by water damage. =)
via
Michael Phelps using waterproof iPod case & headphones [H2O Audio]
Michael Phelps SI Magazine Cover [Sports Illustrated]
MichaelPhelps.com [Official site]
Julianne Moore and Michael Phelps Annie Leibovitz Disney Dream Portrait [Laughing Place]
Michael Phelps Gallery

Related Posts