Kevin Mitnick, Hacker, "Most Wanted Computer Criminal" Turned Security Consultant, is Mac User
Kevin Mitnick was formerly the "most wanted" hacker. Now Mitnick is a Security consultant and Mac user, often seen with his Apple MacBook Pro.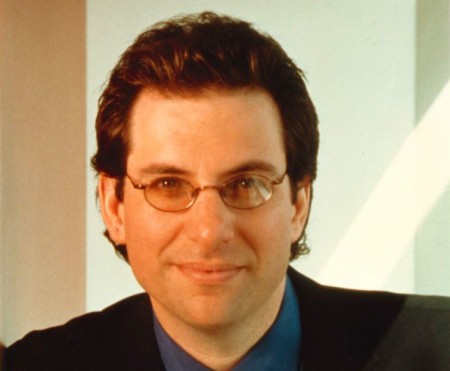 Kevin Mitnick is an internationally renowned hacker / cracker.
Kevin gained unauthorized access to computer systems at some of the largest corporations on the planet and penetrated some of the most resilient computer systems ever developed.
While he was a fugitive, Mitnick listened on FBI phone calls, left them doughnuts when he narrowly escaped raids, and was chased down by a helicopter. Mitnick evaded capture for two and a half years.
At the time of his arrest, Kevin Mitnick was called by United States Department of Justice as "the most wanted computer criminal in United States history."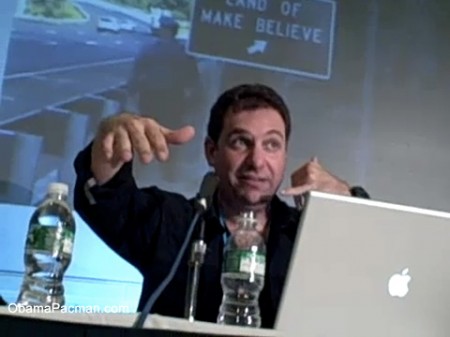 Mitnick now runs Mitnick Security Consulting, a computer security consultancy. Kevin Mitnick is seen here with his Apple MacBook Pro laptop.
December 2009 update: added watermark & second image of Kevin Mitnick with his Mac, because many sites stole the image without crediting this article. (If you like to repost the image, please do the right thing and credit this article. Thanks)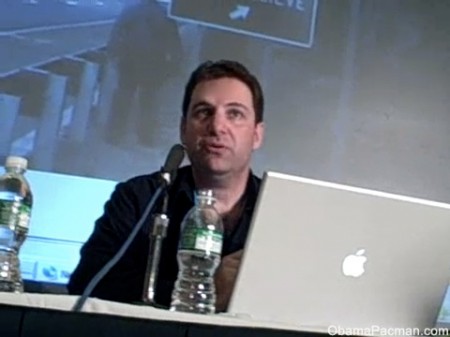 Kevin Mitnick has been the subject of countless news and magazine articles published throughout the world.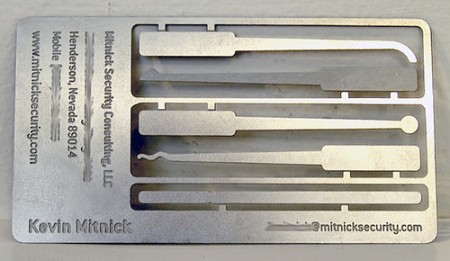 Books by Kevin Mitnick
Mitnick has written two books:
The Art of Deception
: Controlling the Human Element of Security
The Art of Intrusion
: The Real Stories Behind the Exploits of Hackers, Intruders and Deceivers
He has made guest appearances on numerous television and radio programs on issues related to information security. Mitnick has even been a guest star on ABC's spy drama "Alias," playing a good CIA hacker.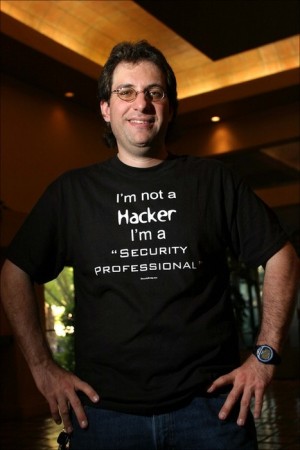 Mitnick's Alias appearance is on First season, Episode 5, "Alias" Doppelganger (2001). Scene with Mitnick is around 24 minutes in.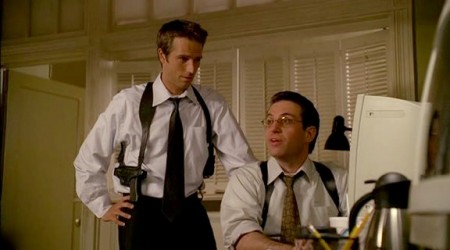 Alias
is a great show that has won many awards. If you like action dramas like 24, you will like Alias.
Fun fact: At the time of recording the Alias episode, Kevin Mitnick was under court order that bans him from computer usage. So a dummy computer was used. The shots of the character with active computer screen were shot using a stunt double. Eventually Kevin Mitnick got his computer ban order removed through court.
Why Macs (Apple Computers) Are a Great Hacker's Tool
UNIX operating system: Apple Mac OS X is certified UNIX
Macs can easily run multiple virtual machines under OS X without fear of infecting Mac OS X
Efficient multi tasking under OS X allows running dozens of apps and numerous documents without slow downs
Macs can easily multi-boot into different operating systems. Such as: Linux (UNIX variant), Microsoft Windows, Mac OS X (UNIX certified)
No inexplicable slow downs, UNIX operating systems are designed for 24 / 7 operation
via:
Mitnick Security Consulting, LLC [Official Site]
Speaker: Kevin Mitnick [Global Speakers]
Social Engineering 101: Mitnick and other hackers show how it's done [cnet]
Kevin Mitnick, most wanted computer criminal [US Department of Justice]
Related Stuff:
The Art of Deception
: Controlling the Human Element of Security [Book by Kevin Mitnick]
The Art of Intrusion
: The Real Stories Behind the Exploits of Hackers, Intruders and Deceivers
Alias
(Award winning show)

Related Posts