Apple Mac OS X 10.6 Snow Leopard Technology – OP Executive Summary
Executive summary review of Mac OSX Snow Leopard
Mac OS X 10.6 Snow Leopard, the newest Mac OS reference release's most touted feature is "no new features!" But is such a thing possible from Apple? Not exactly — there are a number of accessible features plus numerous new features under the hood that benefits both consumers and developers in Apple's latest cat.
Snow Leopard, the latest version of Mac OS X was released by Apple on Friday, August 28, 2009. The price of SL is free with new Macs, or the low price of $29 for those upgrading from Leopard, the most recent Mac OS.
Snow Leopard is for Intel Macs only, but due to popularity of Mac ownership in recent years, a majority of Macs can run Snow Leopard.
Ars Technica has a 23 page Detailed Technical Review of Mac OS X 10.6 Snow Leopard.
Roughly Drafted Magazine Inside Mac OS X Snow Leopard: QuickTime X.
And of course Apple has the official word on Apple Mac OS X.
Mac OS X is an UNIX (linux geeks, linux IS a variant of unix) certified operating system with an extremely refined GUI (think iPhone, iPod) made for all kinds of users, from artists to scientists to enterprise.
On top of UNIX Security and Reliability, as with all versions of Mac OS X, there are no activation hassles, no viruses, nor any need for constant defrag or baby sitting.
Prominent Features of Snow Leopard
Run through of some notable features of Snow Leopard.
64bit integration done right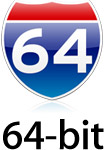 No need to juggle various version of 32bit, 64bit system disks, 32bit, 64bit applications and 32bit, 64bit drivers.
Snow Leopard can run either 32bit or 64bit processes from a single standard install. In other word, it runs 64 processes on 32 bit or 64bit kernel.
Developers can release one piece of software, a Universal Binary, that works on both 32bit and 64bit systems. Benefits users with no confusion on what software package to get.
Faster speed & Smaller footprint!
For the seventh consecutive time, a new release of Mac OS X is faster on the same hardware than its predecessor, including quicker automated Time Machine backup, faster JavaScript with Safari browser, higher-resolution iChat web cam and screen sharing that takes less bandwidth,plus many built in automatons designed to save user time.
For the first time ever, it's smaller than its predecessor.
Improved already outstanding Peripheral Support
Mac OS X can already use quite a few peripherals out of the box (WITHOUT need for hunting down, figuring out what driver version to get, then extract, install, and sometimes restart often required for windows). Snow Leopards supports more scanners without third party software with built in Image Capture application. Printer support now has built in, automated, on-demand download of popular printer drivers.
Microsoft Exchange Server Support


A hand-me-down from Apple's iPhone, which gained support for Exchange in its 2.0 release and expanded on it in 3.0. Featuring setup that makes sense.
Arstechnica describes the brand new Mac OS X Snow Leopard's Exchange support, in its 1.0 version is even better than Microsoft's own Entourage app (part of MS Office) with many versions developed and released over the years by Microsoft.
What it means: Macs have better integration in an Exchange-centric environment when Microsoft's own support is lacking.
Access Anywhere, Wake on Demand
Put a Mac to sleep, and still have access to their contents anytime, anywhere. With a built in wake on demand that is typically reserved for servers. Best of both worlds, comes the benefit of a server running 24/7 with the energy efficiency of a Mac in sleep state.
QuickTime X


New feature:
Built in screen recording with QuickTime X (pronounced ten, not ex)
Underlying technology:
QuickTime, after 18 years of backward compatibility, is now 64bit only. But can still call 32bit processes and plugins.
For those who are misinformed about QuickTime / iTunes, the latest version of Quicktime continues to champion open standards. The new QuickTime X now supports HTTP Live Streaming, a new open protocol allowing live or on-demand video streams using standard web requests.
The feature is already built into the iPhone 3.0, so that means already over 45 million mobile clients are capable of taking advantage of this open video standard.
Even faster start up and shut down
Mac OS X is designed for 24/7 operation without need for constant defrag nor manual optimization baby sitting of the OS. Most users of OS X sleep their Macs instead of shutting down and restarting it.
But for those who shuts down server-grade-Mac-OSX, Snow Leopard's start up and shut down are even faster than the already fast Leopard. Great for the times you are running off to the airport.
1-Click system setting change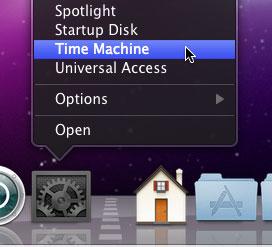 Right click on System Preferences, then you can go to the specific selection you want to open. (Windows users, ever tried to navigate control panel, especially in Vista?)
Minor notes
QuickTime 7
If you install QuickTime 7 to use older codecs, you'll find QT7 in the Utilities folder. (Or just use the almost instantaneous Spotlight search).
Rosetta (for old PPC apps) is optional install, but if you need it, it'll download and install on demand.
Tip, just like Leopard: Docking an alias of a folder provides the single-click-open directly to folder content.
Hard drive space display now uses power 10 (what HD manufacturers use to list capacity) calculations instead of power 2 calculations. It's an easier way to calculate size so the non-geeks won't keep asking, why is my hard drive a different size than advertised by HD manufacturers.
Snow Leopard Technology Review For Developers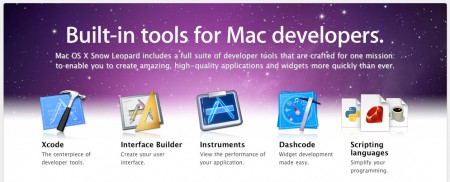 Ars Technica's 23 page detailed technical review of Snow Leopard describing the following and more:
0 Features!?
32bit and 64bit interaction
File access performance boost
Resource fork to reduce file size
Other system optimizations
Built in tools for developers, including: Clang and LLVM compilers for use with C, C++, Objective-C, and Objective-C++
Grand Central Dispatch, fruits of concurrency, high-performance computing: Parallel programming technology developed for supercomputers is built right in, automatically creates proper number of threads for parallel computing.
Threads, pools, queues
OpenCL to harness power of GPU for general purpose computation without the need for vendor-specific assembly languages. Can also take advantage of CPU for tasks which are faster on CPU than GPU.
Carbon vs. Cocoa
and more (did we say it's 23 pages?)
Summary
Lots of things to be excited for in Snow Leopard. It's definitely a worthwhile upgrade for a newer, FASTER, operating system that take up LESS space. It's a no brainer, especially at the price of $29 for users of OSX Leopard.
Like any OS upgrade, if you are a professional, before you upgrade to Snow Leopard, you might want to wait for the apps you depend on to be updated first, to take advantage of the new technology available in Snow Leopard.
Via:
Detailed Technical Review, Mac OS X 10.6 Snow Leopard [Ars Technica]
Inside Mac OS X Snow Leopard: QuickTime X [Roughly Drafted Magazine]
Apple Mac OS X [Apple]

Related Posts