George Clooney Is A Mac Guy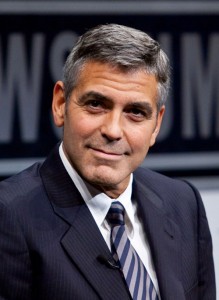 Here is George Clooney walking with his Apple laptop, showing off to the world that he's a Mac guy. Nice smile Clooney. =) The Apple laptop is a MacBook Pro.
George Clooney is an actor, director, producer and screenwriter. Clooney's came to fame by his role in the highly successful, award winning show ER. Clooney starred in many great movies, including the Oceans Eleven franchise that made close to half a billion dollars worldwide.
Clooney starred in a recent movie, Burn After Reading (stars include Brad Pitt), a fun quirky spy spoof. I find the punch line to be great.
Spoiler alert, highlight between quote read punch line, which much says something like:
"What did we do (to cause this situation)? (No idea.) Well, whatever we did, I guess we learned not to do it again."
Yes there are many intellectuals in Washington DC, but many people in the area would recognize the situation and say, hey, I know some disinterested, incompetent bureaucrats like that guy.
Burn After Reading is doing pretty well. It took in over 160 million dollars so far worldwide, on a budget under 40 million.
Via
George Clooney Walking With Mac, Geek Sugar
Burn After Reading, Movie Trailer

Related Posts